Other interest rate impacts to bear in mind - March 26, 2020

For many retirees reliant on bank term deposits for regular income, the relentless reduction in interest rates over the last few years, culminating in the generational lows wrought by the corona virus pandemic, have caused enormous stress and angst.
There is however another side of the coin, and low interest rates have some upside in certain particular areas. For example:
The maximum permissible interest rate (MPIR) is the interest rate that converts the refundable accommodation deposit (RAD) into a daily accommodation payment (DAP) for residents of aged care accommodation. This rate has been trending down, very modestly, from 4.91% on January 1, 2020 to 4.89% on March 20, but should fall more markedly, effectively reducing DAP levels for new entrants to residential accommodation.
Recent events may also see a reduction in the current interest rate applying to the Pension Loan Scheme, although there was a significant drop in the effective rate from 5.25% to 4.5% per annum on generally one 2020. Reductions in this rate, and those applying to reverse mortgages in general, should make it more cost-effective for retirees to extract income from their residential properties on a more attractive basis.
Deeming Rate and Super Changes - March 23, 2020
Just confirming some recent announcements regarding deeming rates and superannuation drawdown and release arrangements.
Deeming rates
On top of the deeming rate changes made at the time of the first Corona Virus package, the Government is reducing the deeming rates by a further 0.25 percentage points to reflect further rate reductions by the RBA.
As of 1 May 2020, the lower deeming rate will be 0.25 per cent and the upper deeming rate will be 2.25 per cent.
Drawdown rates
"The Government is temporarily reducing superannuation minimum drawdown requirements for account based pensions and similar products by 50 per cent for 2019-20 and 2020-21."
Early release of Super
The Government will allow individuals in financial stress as a result of the Coronavirus to access up to $10,000 of their superannuation in 2019-20 and a further $10,000 in 2020-21.
Eligible individuals will be able to apply online through myGov for access of up to $10,000 of their superannuation before 1 July 2020. They will also be able to access up to a further $10,000 from 1 July 2020 for another three months. These amounts will not be taxable and the money they withdraw will not affect Centrelink or Veterans' Affairs payments.
A tumultuous week - financially and socially - March 21, 2020
It has been a tumultuous couple of weeks, both socially and financially, but we would just summarise a couple of items that might be of interest to retirees, or individuals on the cusp of retirement.
Firstly, there are clear indications that, as part of a new corona virus assistance package to be announced shortly, the government will be reducing the minimum drawdown rates associated with superannuation. This reflects a similar moved made during the global financial crisis more than a decade ago. The current drawdown rates vary from 4% for someone aged under 65, to a peak of 14% for those aged 95 and over.
Some flexibility is in order, but you will notice that in ordinary times we have a concern that many retirees aren't drawing down adequate funds, and place too much emphasis on savings. This is only likely to increase further in this uncertain environment, and this is a weakness with the Australian superannuation system. General uncertainty prompts individuals and families to maintain even more reserves against unforeseen costs or a rise in living costs.
Secondly, there are some indications that access to superannuation prior to retirement, on financial hardship grounds, will be made easier - temporarily. This sounds sensible, but needs to be approached carefully, because significant withdrawals particularly in this environment would give rise to liquidity problems for superannuation funds.
Thirdly, the tremendous recent reduction in interest rates will be reflected in deeming rates during the course of May, as we mention below, but the other side of this coin is that this makes reverse mortgages a considerably more attractive option, if low interest rates become a prolonged feature of the environment.
Government announces reduction in "deeming rates" - March 13, 2020
On March 12, the Federal Government announced, as part of a package of measures intended to address the financial impact of the coronavirus pandemic, that there would be a reduction in the "deeming rates" associated with financial investments, which applies as part of the assets test for the age pension. The changes involve a decrease in the lower rate from 1% to 0.5% and the upper rate dropping from 3% to 2.5% - reflecting a significant drop in interest rates.
A media release from the Department of Social Services indicated that about 900,000 Australians would see an increase in their fortnightly social security payments and that on average age pension is a receive an additional $8.42 a fortnight, or $219 a year.
Rather confusingly, the release said that the, "extra money will start flowing through into peoples banks accounts from May 1". The presumption is that this means the effective date is May 1, but we have yet to be able to confirm as such.
Coronavirus - Some further thoughts - March 7, 2020
Reading about the coronavirus, and its potential impact in Australia, is almost unavoidable at the present time. We would make a couple of short comments.
Firstly, residential aged care accommodation will come under significant pressure, given that their occupants are at most risk to the virus - by virtue of age and probably pre-existing healthcare conditions. This will place these businesses under both operational and financial pressure, which we hope will be recognised by the Government. Clearly, unless there are no alternatives, individuals should probably not be moving into residential aged care accommodation in the short term, and we would expect operators to be very selective in terms of new residents. The relatives of residents should expect, and support, restrictions on their access to the facilities - to mitigate the risk to residents.
Secondly, the coronavirus is already having a significant economic impact, and at the present time it's unclear about both the severity and duration of any impact. Regardless, however, the share markets have suffered a significant correction and we have seen yet another interest rate reduction by the RBA. At the earliest opportunity, the Government should be reviewing the deeming rates used in the age pension test, the interest rate applying in relation to the pension loan scheme and the maximum permissible interest rate (MPIR) which is used to convert refundable accommodation deposits (RADs) into daily accommodation payments (DAPs).
The Coronavirus and Retirement Villages - March 3, 2020
There is an enormous amount of media attention now focused on the coronavirus and its implications in Australia. Given that the virus has a particularly elevated fatality rate for the elderly and those with pre-existing medical conditions, we expect a lot of attention will be focused on the residents of residential age care homes - and the operators should be, or shortly should be, in communication with residents and their families regarding their preparedness and action plans.
The residents of retirement villages will attract less attention, simply because they are living independently and have a lower age profile. Nevertheless, we think it is incumbent on the operators, particularly where there are co-located aged care facilities, to also communicate with retirement village residents regarding their approach to minimising the risk of coronavirus. We say minimising, because it seems almost inevitable at this stage that the virus will become widespread throughout the community, and the efforts of this stage are focused largely on delaying its onset and spread, with a view to reducing pressure on health facilities and the economy at large.
From a layman's perspective, we think the following are important issues:
If residents have external families, there should be some discussion around whether, if and when residents should move in with family members, in situations where the virus becomes prevalent in their retirement village. This is very situational, and dependent upon the personal, medical and family circumstances of residents.
Our experience is that, given the age profile of retirement villages, it is very common for a significant percentage of the community to have ongoing and regular requirements for medical attention, including visiting hospitals and medical facilities, and this raises the risk of the virus transferring into the retirement village. Therefore residents need to exercise common sense and reduce their level of "face to face" contact with other village residents, in favour of electronic means.
Similarly, many residents have support staff in common, ranging from district nurses to regular cleaners - we think is reasonable to suggest that any services that are "discretionary" should be suspended indefinitely - to minimise external contact.
Finally, as with other members of the community, residents should ensure that they have adequate stocks of any medicines that they require on a regular basis, to reduce their need to visit a pharmacy, or medical establishment.
Radical reform of Retirement Income - Possible in Australia? - February 20, 2020
In his submission to the Retirement Income Review, Prof Kevin Davis of the University of Melbourne, suggests a "radical" way forward in terms of retirement income, involving:
introduction of a universal (non-means-tested) full age pension

restoring tax on the income of super funds in the retirement (pension) phase

other tax changes, including removing the seniors and pensioners tax offset, and a different tax scale for those in receipt of the pension.
We think the approach has considerable merit, and have discussed it internally, but lacked the ability to model the outcomes in terms of the relative cost to Government. The approach would have the benefit of markedly simplifying the nation's approach to retirement income, and perhaps being almost Budget neutral.
Prof Davis acknowledges, unsurprisingly, that there would be "winners and losers" in the approach but the only losers with be those with "retirement superannuation balances currently generating tax-free income in the region of $100,000 p.a above". Regrettably, looking back at the last Federal election, the state of politics is such that our "leaders"seems unwilling, or unable, to manage the introduction of a policy with any apparent "losers".
What we don't think Australians appreciate just how odd our approach is to the taxation of retirement contributions and income, compared to the rest of the world. Most developed countries, such as the UK, US Canada and most of Europe, provide a tax holiday or contributions to pension funds, and then tax the funds at normal marginal rates on retirement. Our problem in Australia partly stems from the curious decision made to tax superannuation contributions at 15%, presumably for cash flow purposes, and in the latter decision to forego taxation on (most) income streams post age 60.
The latter decision will prove untenable, and something significant and radical is needed to fix the current system, and reduce the level of complexity for retirees.
As an addendum, in the National Australia Bank's latest Wellbeing Survey, the major cause of financial anxiety and the community was identified as:
"....financing our retirement. Not having enough to finance retirement was not only the biggest concern, for all Australians, but their level of concern also increased slightly to 55.4 points out of 100 (55.0 in Q3). A score of 100 signal 'extreme' concern."
Addressing this anxiety, apart from having societal benefits, would likely also lead to a whole spectrum of Australian society feeling more comfortable spending - rather than saving "just in case" - with very significant multiplier benefits.
Does a better breed of Life Cycle Products offer an improved investment strategy? - January 23, 2020
Research suggests that around 80% of the superannuation funds regulated by APRA - and that includes both industry and retail superannuation funds, but not self managed superannuation funds - are invested in the individuals funds "default investment option". In all likelihood, the default option will have an allocation to growth assets of about 70 per cent and be called the "balanced option".
That investment option worked out very well for most members in a balanced investor option during the course of 2019, given the significant exposure to growth assets - and particularly with respect to Australian and international equities. Indeed, consultants Chant West report that growth orientated super funds delivered an average return of 14.7% during the course of 2019. See the chart below for a list of the top performing balanced funds.
Given returns of this magnitude, it would be natural for many superannuation members to simply adopt an approach of remaining with the default investment option, but recent research from Rice Warner suggests that this may not offer the best investment strategy over time.
As part of research released in December 2019, Rice Warner model ised five different investment strategies:
A Balanced Strategy which adopted a 70% allocation to Growth assets and a 30% allocation to Defensive assets irrespective of a members age or balance.
High Growth Strategy which adopted an 85% allocation to Growth assets and a 15% allocation to Defensive assets for all members irrespective of age and balance.
First-generation Lifecycle with an emphasis on defensive assets that segment members by age and de-risk from a young age.
Second-generation Lifecycle with higher allocations to growth up to age 55 before slowly de-risking to more defensive levels as members age.
Multi-dimensional Lifecycle which adopts a high allocation to growth assets unless a member is at an advanced age and has a low balance.
So-called "life-cycle" products have recently suffered from a poor reputation - largely because they "dialled down" an individual's exposure to growth assets at an early age, sometimes as early as 30, and therefore under-performed quite significantly, compared to balanced funds, in a strong investment climate.
Second-generation life-cycle products begin to reduce exposure to growth assets at a much later stage, typically from age 55 onwards, and continue to maintain a high exposure, circa 70%, to growth assets.
Multifactor life cycle products involve adjusting growth asset allocations according to both a member's age and account balance - the account balance is important because individuals with larger balances typically have longer investment horizons.
Rice Warner research suggests that Multifactor life-cycle products may offer a significant improvement over a balance fund. Rice Warner found that for somebody aged 30 with an opening balance of $26,000, a Multifactor life cycle product had a 91.8 per cent chance of outperforming a balanced fund by the time of retirement at age 63 and that, "Moving to an optimised default strategy (multi-factor life cycle) can increase the expected income a member receives in retirement by up to 35 per cent, or $708,000, assuming that the member is currently in a balanced fund with a 70 per cent allocation to growth assets."
Clearly, life-cycle products are becoming more sophisticated, and may represent a real alternative to simply "moving with the herd" - worth watching in detail and discussing with your adviser.
Royal Commission into Aged Care - Consultation paper: "Aged Care Program Redesign" - December 9, 2019
On December 6 the Royal Commission into Aged Care released a consultation paper entitled, "Aged Care Program Redesign". The overwhelming theme of the consultation paper is "putting people at the centre" of aged care processes - the Commission's view is that the current system is largely focussed on the government's need to manage fiscal risk and financial models rather than on delivering individual care, as well as being overly focused on an institutional model of residential care, rather than care in the home. Nor is the present approach seen as effectively ensuring the quality and safety of aged care, or delivering equitable outcomes.
The consultation paper makes a number of in-depth observation regarding the current process and where improvements might be made, and also provides a model for a proposed (new) aged care system. The model involves providing assistance to individuals and their families through interposing a "Care Finder" - who will provide direct assistance in navigating what will remain a complex system. Click the figure below to download a larger copy of the suggested process diagram.
Retirement Income Review - Consultation Period - November 25, 2019
The Government has initiated a Retirement Income Review, which is scheduled to report by June 2020, following a consultation period which finishes on February 3, 2020. Interested parties are now invited to comment on a consultation paper released by the committee.
The terms of reference of the review are that it will, "establish a fact base of the current retirement income system that will improve understanding of its operation and the outcomes it is delivering for Australians. The Retirement Income Review will identify:
how the retirement income system supports Australians in retirement;
the role of each pillar in supporting Australians through retirement;
distributional impacts across the population and over time; and
the impact of current policy settings on public finances"
Obviously, establishing a clear factual basis for discussion around retirement options is crucial; but clearly the Government has sought to minimise the chances of the Review producing politically unattractive recommendations - and the Treasurer has expressly indicated that family homes would "never" form part of the assets test for pension purposes. Why he would seek to exclude that possibility from any general analysis is irrational, other than for overtly political reasons - given the significant part that property plays in the wealth of Australian households. To illustrate, see the chart below - which also appears in the consultation paper
For those relieved at the thought that the family home will not form part of any assessment - be careful what you wish for. There is a real possibility that the Government will look for cost savings in other areas, such as deferring access to superannuation (in line with pension age), the further taxation of superannuation and inheritance taxes. Unfortunately, it is just not viable or acceptable to have individuals obtaining the full age pension while sitting properties valued at $2 million or more; which are now capable of generating a reasonable income through the pension loan scheme or reverse mortgages.
Interestingly, the consultation paper also makes reference to individuals saving beyond their retirement income needs. The concern is to determine whether this is a function of individuals being concerned about longevity risk, or whether superannuation is being used as a tax efficient structure for savings and wealth accumulation.
We think evidence exists for both approaches, but the majority of individuals (if not the vast majority of funds involved) are saving more than they should or need to simply to ensure against longevity risk and substantial one-off costs - be they medical gaps, household repairs or family emergencies.
The focus should be on alleviating pressure on these individuals - because it holds out the promise of substantially improving the welfare of a large number of retirees whilst liberating funds into the economy, and potentially improving turnover within the real estate market for younger generations. Superannuation funds of very significant size which extend well beyond retirement needs do not warrant any form of community support.
Answering the perennial question - "How much can I spend ?" - November 7, 2019
The proper answers to this question is as always..."it depends on your personal circumstances". But the Actuaries Institute has come up with a novel "rule of thumb" about how much a retiree can spend in each year of their retirement.
Their suggestion is, and this applies only to single pensioners who are homeowners, is that the "average retiree" should be spending a percentage amount equivalent to the first digit of their age each year to avoid over and under spending. In short:
draw down a baseline rate, as a percentage, that is the first digit of their age
add 2% if their account balance is between $250,000 and $500,000
the above is subject to meeting the statutory minimum drawdown rule
Hence, someone age 65 would spend an amount equivalent to 6% of their superannuation/investment base every year, and someone aged 75 would spend 7% - and, if they had $350,000 in savings, they could spend a further 2%.
For more information about their approach and recommendations, read "Spend Your Age, and a Little More, for a Happy Retirement".
The "good thing" about these approaches is that they do foster more discussion; the "bad thing" is that most people aren't "average" and will often benefit from advice which is individual to their situation.
Some thoughts about "lower and longer" interest rates - November 6, 2019
There is a very real prospect, at the present time, that Australian and global interest rates will trend to and remain at historic lows for a very lengthy period of time. This has serious potential significant consequences for retirees; with the recent low term deposit interest rates simply being the "canary in the coal mine".
Very low global interest rates raise the prospect that what is called the "risk free rate of return" will trend to zero, and perhaps lower if you look at bank interest returns in parts of Europe and Japan. This calls into serious question about whether it remains robust to plan a retirement based on the premise that, even with a balanced portfolio of equities and bonds, you will see a return of 5% or more in excess of inflation. Indeed, chief investment officers from major super funds are becoming more public in suggesting that nominal annual returns around 5% - inclusive of inflation of 1.5% - should be considered the new "normal".
At the very least, you must include in your retirement planning more conservative assumptions than have been the norm over the last 10 or 20 years - and consider whether some degree of capital run down should feature in your planning.
Lower interest rates may also have some unusual knock-on implications that will take some time to surface - for example, when individuals enter aged care accommodation they are offered a choice between making a refundable accommodation deposit (RAD) or daily accommodation payment (DAP). A factor, called the maximum permissible interest rate (MPIR) converts between these two payments - if the MPIR becomes very low then DAPs will also reduce significantly, in principle.
Additionally, if the costs of reverse mortgages also reduce in line with normal domestic mortgages, then they will become a more attractive (and less risky) way of generating income, particularly if asset inflation is going to be a consequence of lower interest rates.
Stop Press: The Government announced on October 23 that it would review the interest rates applying to the new Pension Loan Scheme, after criticism that it was "ripping off pensioners". Whilst the current rates (5.25%) are still better than those applying in the reverse mortgages market, that is probably a poor comparison - given the relatively small nature of that market and funding costs.
Review of the Retirement Income System – September 27, 2019
The Treasurer has just announced a review of the existing retirement income system, as recommended in a recent review of superannuation by the productivity commission. The terms of reference of the review are wide-ranging:
"The review will look at the three pillars of the existing retirement income system, being the Age Pension, compulsory superannuation and voluntary savings.
In doing so, the review will cover the current state of the system and how it will perform in the future as Australians live longer and the population ages.
Through its work, the review will establish a fact base of the current retirement income system that will improve understanding of its operation and the outcomes it is delivering for Australians."
The Treasurer deserves credit for the wide scope of the review, but it is concerning that the Government is not looking for the review to make any recommendations, but to simply establish a "fact base". Additionally, the Treasurer also apparently reaffirmed that, "As I said in parliament in July, including the family home in the pension assets test is not our policy and never will be", which effectively stunts the scope of any recommendations.
How the family home is treated for pension purposes it is extremely sensitive matter, but it remains our view that the various tax and pension provisions applying to the family home distort the real estate market to the detriment of both retirees and younger entrants to the market and increase costs.
A consultation paper will be released in November 2019 and the final report provided to Government by June 2020.
No more piecemeal... we deserve and need an extensive Retirement System Review - August 28, 2019
One of the first announcements made by the Government after winning the last election was that it would act on a recommendation of the Productivity Commission to proceed with a detailed review of Australia's retirement income system. Following that announcement pressure has grown to widen the terms of the review to include virtually all aspects of the retirement system - including the level of the superannuation guarantee and the integration of the superannuation system with social security payments.
We have been critical in the past of frequent, piecemeal changes to superannuation policy in particular, on the basis that consistency is required for individuals to plan property for their retirement. However, the superannuation system in particular has become the victim of a variety of government policy decisions, often well intentioned, which have increased complexity enormously, often because of the politicians love of "grandfathering" in a populist world, and it is time to widen the discussion.
The Actuaries Institute of Australia recently released a green paper urging retirement reform, suggesting that any proposals for reform should be judged against three guiding principles, with which we wholeheartedly agree:
Australian retirees should have financial security;
the system should be efficient without unnecessary complexity or costs;
and it must be fair.
We look forward to the Treasurer releasing the terms of reference for any review, and perhaps more importantly both the membership of the review panel and a public commitment to being brave when it comes to implementing potential changes. It is obvious that with any substantial changes there will be perceived "winners and losers" - and the Government needs to be prepared to show leadership, not exclude any areas from review including the role of the family home in retirement, and a clear focus on ensuring fairness across the community.
The Heavy cost of Compliance and the Need for Better Financial Education - August 20, 2019
The last two years have seen newspapers filled with stories of inappropriate, callous and dishonest activity from participants in the finance industry. There is no doubt that Australia's compliance regime was both inadequate in scope and enforcement often lacking.
Now we are faced with a wave of new legislation introducing heavier compliance regimes across the financial sector, significantly higher penalties and the introduction of higher minimum standards of professional education. All good, except that no compliance regime is perfect, it is just not possible to provide complete protection from malfeasance, and it comes at a heavy cost which the consumer ultimately bears. It will also clearly have the effect of reducing the number of financial planners in Australia, and the access of "middle Australia" to professional advice - as financial planners find that the only way to run an economic business is to focus on high net worth individuals.
Access to robo-advice is often touted as a potential solution, but so far robo-advice is largely limited to simply providing investment advice. The day has not yet come where it adequately provides holistic financial planning advice with respect to social security, superannuation and retirement.
The best and most efficient way for the Government to fill this widening gap is to devote substantial resources to financial education across all age groups in Australia in concert with compliance improvements. Large parts of the Australian population need to be become much more capable of managing their own financial affairs, perhaps with occasional reference to financial advances. Some retirees have also got to become less "fee shy" - it is extraordinary that individuals coming up for retirement and considering how to manage superannuation and other assets often amounting to several hundred thousand dollars often seem concerned about paying a few thousand dollars in financial planning advice.
Paying $10,000 or $20,000 for a trip to Europe, no problem, but they often won't willingly pay for advice on planning their affairs for the next 20 or 30 years! Not an intelligent approach and the system is just too complex in many situation for individuals and families to proceed without guidance.
Australian Superannuation Fund Performance - 2018/2019 - July 19, 2019
SuperRatings has just provided some feedback how superannuation funds performed over the 2019 financial year, reporting that the median balance fund returned 6.9%. This is quite impressive given that many funds were signalling negative returns at the end of 2018, but the performance was significantly lifted by a substantial upturn in the local and international equity markets in June. The chart below illustrates how these returns compare to previous years, back to the introduction of compulsory superannuation in 1992.
Return on balanced Super Funds since 1992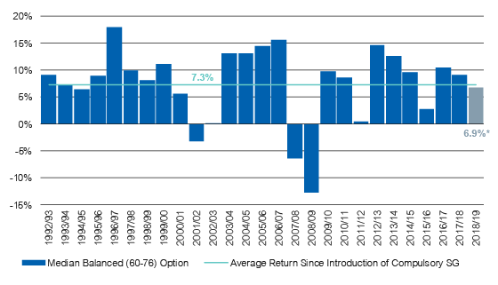 These returns do come however come against the backdrop of commentators flagging that many markets, including Australian and international equities may have peaked. Many funds also appear to be becoming more defensive in their investment outlook and to have started preparing their members for a period of potentially lower returns.
In terms of which funds have performed best over the longer term, the chart below lists those public funds with the best returns over the last 10 years, again sourced from SuperRatings.
Top 10 returning Super Funds over 10 years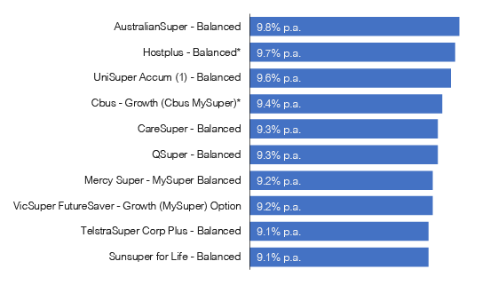 Government Announces (Backdated) Changes to Deeming Rates - July 14, 2019
The Government has announced a reduction in deeming rates - the rate applicable to the first $51,800 of a single pensioner's financial investments, and the first $86,200 of a couple's investments, will drop from 1.75 per cent to 1 per cent. The deeming rate for balances above these amounts will reduce from 3.25 to 3 per cent.
Apart from age pensions, the changes will also impact those receiving other income-tested payments, including the Disability Support Pension, Carer Payment and Newstart. Those affected will see their pension payments increase from September 30, in line with the regular indexation of the pension, but the payments will be backdated to July 1.
No statements have been made in relation to other interest rates - such as the MPIR, which directly affects the level of Daily Accommodation Payments applicable in aged care homes, and the rates applying to the Pension Loan Scheme.
What's Changing today? - July 1, 2019
A quick summary of some of the changes impacting superannuation and pensions from July 1, 2019.
Australians born between January 1, 1954 and June 30, 1955 will now have to wait until they turn 66 before they can apply for the age pension. Eventually, the minimum age for access to the age pension will increase to 67 by July 1, 2023. Additionally, the minimum age at which you can normally access superannuation - your preservation age - is also increasing. Individuals turning 57 years of age from July 1, 2019 to June 30, 2020, will need to wait until they are aged 58 to access super (including transition to retirement pensions).
Eligible retirees aged 65 to 74 with a superannuation balance below $300,000 (as at 30/6/2019) will now be able to make voluntary super contributions for 12 months from the end of the financial year in which they last met the "work test". Additionally, and this option has existed since last year, if your super balance is below $500,000 (again as at 30/6/19) you may be able to make "catch up" concessional contributions - although you also must not have used your entire $25,000 annual concessional contributions cap in the previous financial year.
The work bonus, which is intended as an incentive for people in receipt of the age pension to continue working, increases from $250 per fortnight to $300 per fortnight - before their pension it is impacted.
Under the Government's "Protecting Your Super" package, super accounts that have been inactive for 16 months with a balance of less than $6000, will be transferred to the ATO.
Interest Rates - It's not just about the Deeming Rate! - June 28, 2019
Many retirees hold upon term deposits because they provide relative liquidity and security - and they have been hard-hit over the recent years by the low interest rate environment. Their position worsened just recently when the RBA decided to move interest rates even lower, ratcheting down returns across a range of interests related investments.
Anyone looking for any sort of silver lining in terms of that decision would then have reasonably expected a commensurate reduction in Centrelink's "deeming rates" - these are the rates used by the Government to assess how much income an individual is likely to earn from their financial investments each year, for the purposes of the age pension income test, and in other areas.
These rates have now not moved since 2015, and they were set at a time when the Reserve Bank's official cash rate was 2.25%, substantially above the current record low cash rate announced last week of 1.25%. That means that we are in a position where the deemed rates of return are no longer a fair reflection of safe returns are available in the market. At the present time, single pensioners are assumed to earn 1.75% per annum on the first $51,200 of their financial assets, and 3.75% per annum thereafter.
Logic suggests that there should be an urgent review of these deeming rates, and some reduction. This would assist individuals, particularly at the margins, to either gain access to a pension, or increase their level of payment.
And what about other areas where a reduction in interest rates might impact retirees?
From reading this site you will be aware that a new Pension Loan Scheme (PLS) launches with effect from July 1, 2019 - a revamped and much more flexible version of the pension loan scheme that has been in place for decades, and attracted relatively little attention. The current interest rate applying to the loan is 5.25%, and this rate has remained unchanged since 1997. Recent interest rate changes means that the Government will need to review/reduce this rate in order to ensure that the scheme remains attractive in the market. Meanwhile, as long as the reduction in rates feeds through to reverse mortgage rates, then it may make them an even more attractive means of funding retirement income.
When individuals move into aged care accommodation, they will often need to make a contribution to their accommodation costs - either in the form of a refundable accommodation deposit (RAD) or a daily accommodation payment (DAP), or a combination of these payments. The DAP is calculated with reference to the RAD, being the RAD multiplied by the maximum permissible interest rate (MPIR) set by the Government. The MPIR is established in a very complex and arcane fashion, and is currently 5.96%. In a declining interest rate environment there must be some prospect that the MPIR will reduce and, with it, the level of DAP's.
Finally, and we have mentioned this elsewhere, data shows that individuals and couples are entering retirement with ever increasing amounts of mortgage debt. This is a very worrying trend and ever effort should be made to use low interest rate periods to pay off debts - at a minimum repayment rates should be maintained to effectively accelerate re-payment rates.
Yet more changes to superannuation? - May 27, 2019
One of our favourite government institutions, the Productivity Commission, in a December 2018 report included a number of recommendations to improve returns within the superannuation system. These included establishing a public inquiry into superannuation as part of the retirement income system, in advance of any increase in the superannuation guarantee (SG) rate, which is scheduled to increase by 0.5% per annum from July 2021 to a rate of 12.5%.
"The Australian Government should commission an independent public inquiry into the role of compulsory superannuation in the broader retirement incomes system, including the net impact of compulsory super on private and public savings, distributional impacts across the population and over time, interactions between superannuation and other sources of retirement income, the impact of superannuation on public finances, and the economic and distributional impacts of the non-indexed $450 a month contributions threshold. This inquiry should be completed in advance of any increase in the superannuation guarantee rate."
During a recent interview with the Australian financial review, the Treasurer indicated that he was, "positively disposed to a review of the retirement income system as recommended by the Productivity Commission (PC)".
The impact of any ensuing public inquiry is going to be very much dependent upon the scope of that Inquiry, and we welcome any approach that will address and hopefully simplify what has clearly become an enormously complex system. However, inquiries of this nature - particularly if it is being pursued for overtly political purposes - invariably inject a level of uncertainty into the system and impede the ability of individuals to plan for their future. So, should the Treasurer decide to proceed with an inquiry, then he needs to very quickly provide further details regarding scope and timing.
Any upside to lower interest rates for Retirees? - May 8, 2019
The popular press would suggest that a reduction in interest rates is an odds-on certainty over the next few months, and many commentators are suggesting its just more "doom and gloom" for retirees on fixed incomes. We wouldn't necessarily agree with an interest rate cut in this environment, interest rate reductions don't quite have the "punch" these used to have, and take a slightly more nuanced approach to its impact on retirees.
Firstly, most of the commentators seem to think that retirees are 100% exposed to term deposits in terms of their income. That can be the case, but that should be relatively rare. An exposure to TD's should be limited to situations where retirees need to maintain some degree of medium-term asset liquidity, as we discuss elsewhere, because they offer little or no exposure to growth or inflation protection.
The major concern in these situations is that retirees, faced with a decline in term deposit interest rates, will move into riskier assets chasing higher returns. This absolutely occurs, but these situations should be taken as opportunities to stand back and consider how your retirement investments are structured, particularly if you are relatively recently retired. Professional advice in these situations is essential; "DIY" investors can tend to adopt highly polarized approaches, overly conservative or risky, rather than balanced strategies.
Secondly, there is always a presumption that retirees are lenders rather than borrowers. Unfortunately, although debt eradication should be one of the main goals of retirees, many more people are entering retirement with ongoing mortgages and commitments, and therefore a reduction in interest rates will benefit them.
Perhaps more importantly however, we foresee a growing trend towards retirees turning their home equity into income streams, whether through the new pension loan scheme (PLS) or reverse mortgages, and a reduction in interest rates will also be beneficial to these individuals.
Finally, decreasing interest rates should put pressure on the government to review what we refer to as some of their structural interest rates. For example,
The interest rate applying relation to the current and new PLS is currently 5.25% per annum; in a period of over 20 years this interest rate has only been changed twice; moving to the current rate on Christmas Day 1997, nearly 12 years ago! It is only happenstance that the current rate is anywhere near a competitive rate that bears comparison with mortgage rates in the open market - it is time that this was reviewed, and adjusted downwards, making the PLS more attractive..
The Case for Better Financial Education in Australia - May 3, 2019
In the wake of the Hayne Royal commission, the Australian Financial Review has characterised individuals seeking financial advice as facing a tough choice; "pay a fortune for genuinely independent advice, accept your advice is conflicted or ditch humans altogether". The latter refers to the advent of what is called robo advice - advice delivered by a computer. Advice of this nature is in its early days, is currently largely restricted to investment advice driven by information provided in a questionnaire. It has significant potential, but it is not yet able to provide fully fledged, holistic financial planning advice.
The Hayne commission clearly exposed deficiencies in financial planning advice, ethical issues and conflicts within some of the major providers, including the banks. However, the push for better, more qualified advisors and ever higher compliance costs risks a situation where independent advice is indeed only available to those with a high individual net worth, and it is a truism that those in need advice are often those who can least afford it.
What this whole discussion misses is the woeful lack of financial education in Australia. Instead of pursuing an ever more expensive compliance regime which cannot eliminate all risks, some of that money would earn a better return applied to financial education for adults in Australia. We have an extraordinarily complicated superannuation and retirement system, and there is no expectation that individuals would never become expert or not need specialist advice, but it could be expected that improving levels of education would also improve the country's broad financial efficiency, reduce the scope of operations of unethical operators and improve the quality of advice generally.
And to those commentators who spout the view that "robo advice" is the answer to providing efficient, low-cost advice, we would argue that robo-advice has significant potential, but it is fundamentally limited at the moment to providing relatively simple, low-cost, investment advice - there is no current system that provides comprehensive advice which balances social security, investment and aged care outcomes. And nor is a likely to be for a number of years.
Just remember, it is the consumer that pays for compliance costs and safety nets, either directly or indirectly.
Doctors and Managing Health Costs - "Open Referrals" to Medical Specialists - February 26, 2019
Many of you reading this website will be of an age where things go wrong medically on a much more regular basis than used to be the case when "we were young". That means a sometimes unavoidable interaction with the health system.
We preface his comments by saying that Australia undeniably enjoys a very good quality health system, and that to some degree our comments reflect "first world problems". However, it's also undeniable that one of the reasons why many people in retirement "save rather than spend", even if they only receive the age pension, is a concern about healthcare costs and particularly "gaps". Many have also seen the medical profession become distinctly more commercial with the passage of time.
These comments come largely as a consequence of one of us being referred to a medical specialist several weeks ago. On this occasions, contact with a specialist resulted in being told that the earliest available appointment was three months away and being pointedly told that a "gap" payment would need to be made for the initial consultation. This is not an emergency matter, and we are sure that processes exist to accelerate things if that were the case, but what is clear is that this particular GP only refers certain matters to certain specialists, and has done for 20 to 30 years.
That's not necessarily a bad thing if the client feedback from these specialists is good, but most would not consider a 3 to 4 month wait acceptable. As we mention elsewhere on the website, we think patients need to be more prepared to ask their GP about waiting times, and indeed costs. In the absence of clear information about both they should consider asking for an "Open Referral". This is a referral letter from a GP which is not addressed to a particular specialist, giving you a choice and effectively the ability to shop around in terms of both access and cost.
If you never heard of an Open Referral before, the Government provides that the, "referring practitioners don't need to address a referral to a specific specialist or consultant physician."
A valid referral only needs to include the following:
relevant clinical information about the patient's condition for investigation, opinion, treatment and/or management;
the date of the referral; and
the signature of the referring practitioner.
Productivity Commission Report: Superannuation - January 15, 2019
Our favourite Government economic agency, the Productivity Commission, has just released a report on superannuation, and we would encourage everyone - regardless of age - to read the short synopsis available entitled, "Superannuation: Assessing Efficiency and Competitiveness". We would have liked the government to you have given the PC a much wider ambit to conduct a total review of the system, but the Government would have been concerned about "unintended consequences" - and it has no enthusiasm or ability to handle complex subject matter this close to an election.
In any event, just to pique your interest, we've extracted a number of interesting observations below both in terms of fund performance and expenses - the emphases are ours:
On Fund Performance
"Over the past 21 years (to 2017), many super funds regulated by the Australian Prudential Regulation Authority ( APRA ) have delivered solid returns to their members — averaging about 5.9 per cent a year in nominal terms, or about 3.5 percentage points above inflation (after fees and taxes)."
"Averages can conceal a lot of variation, especially across individual funds and products. After adjusting for differences in the asset allocation of each fund, we found a wide range of performance ..... It is nigh impossible to overstate the significant implications for members' retirement incomes from this wide dispersion in fund performance over the long term. For example, a typical full - time worker experiencing the investment performance of a bottom - quartile fund over their lifetime would retire with a balance 54 per cent (or $660000) lower than if they experienced returns commensurate with the top quartile (based on the median fund's return in each quartile)."
On the performance of SMSF's
"More than one million members have chosen to self - manage their super in a self - managed super fund (SMSF). Large SMSFs earn broadly similar net returns to APRA - regulated fund s, but smaller ones (with less than $500 000 in assets) perform significantly worse on average."
On Fees
"As a percentage of balances, the reported fees members pay have fallen since the global financial crisis — from 1.3 per cent in 2008 to 1.1 per cent in 2017.... Nevertheless, a tail of high - fee products remains entrenched. Annual fees exceed 1.5 per cent of balances for an estimated 4 million member accounts (holding about $275 billion). Almost all of these accounts are in choice products offered by retail funds."
"Through the looking glass" - Comparing retirement income options - December 23, 2018
A recently released Federal Government Consultation Paper proposes to construct a simple fact sheet to allow prospective retirees to more easily compare retirement income products. The paper reflects the fact that we have an overly complicated retirement system weighed down by regulatory matters.
| | |
| --- | --- |
| | "In almost all cases, consumers are provided with lengthy Product Disclosure Statements which focus on discharging the product issuer's legal responsibilities. Complex disclosure and a lack of simple, clear information can lead to people relying on behavioural biases to make decisions and choosing a default retirement product, which may not suit their circumstances." |
The proposed approach is that, "expected retirement income should be presented numerically and with an income graph using average real annual income from a $100,000 investment, over the period from retirement (currently age 67) to age 97. Income presented should be net of fees and taxes."
Easier said than done, and it means that individuals are going to explicitly understand the trade-offs between risk and return, the interaction between superannuation and the social security system and income returns, including or excluding capital. It is almost absurd to think that individuals will not need professional advice in many circumstances, prior to making very significant personal decisions, yet the rising cost of delivering financial planning advice means that it will remain unavailable to large proportions the Australian population. The only way to effectively bridge this very major gulf is to embark on a very significant public education campaign and at the same time work to simplify as many aspects of the decision process as possible.
We have real concerns for the ability to government to really simplify this area of policy - it is very complex and requires a "root and branch" review of superannuation income - we don't see any government in the current climate having an appetite to sort this area out, despite the clear need. So, likelihood is that we continue to bumble along, with the government trying to provide tools that try to help people to "peer through" a complex thicket of legislation, rules and regulations.
Grattan Institute Report - November 10, 2018
The Grattan Institute has released an interesting and optimistic perspective with respect to future retirement income, entitled, "Money in Retirement, More than Enough".
The report posits that, "The conventional wisdom is that Australians don't save enough for retirement. But this belief, encouraged by the financial services industry fear factory, is mistaken. The vast majority of retirees today and in future are likely to be financially comfortable." Most of the publicity attracted by the Report has been around the suggestion that there is no need to increase the current 9.5% Superannuation Guarantee to 12% as currently planned, but it also includes a number of other recommendations, including:
The Age Pension assets test taper rate should be reduced to $2.25 each fortnight for every $1,000 in assets
Superannuation tax breaks should be reformed further - including further limitation on both concessional and non-concessional contributions, and a 15% tax on super earnings in retirement
The value of the (family) home should be included in means tests for the Age Pension and Aged Care - above a suggested threshold of $500K - with the value of assets that do not reduce the Age Pension correspondingly raised to the same level as that applying to non-homeowners.
Our response is that these are interesting suggestions and may need to be examined closely if, for demographic reasons, the current system becomes simply unaffordable. We believe the exclusion of the family home has a distortionary affect across the whole economy and a "white elephant" that will need to be addressed, but it will require a courageous Government. Of more concern is the degree of equity in the system and whether "savers" in the system are being disproportionately disadvantaged both in terms of access to the pension and aged care and whether this represents a "moral hazard".
From a more practical perspective we do have some concerns about some of the assumptions used in the analysis about the adequacy of future retirement income - consider the chart below:
The assumptions are important and they include, "A person born in 1965, who works uninterrupted until age 67" - we think that in practice the number of people who both work uninterrupted and to age 67, will in fact be very limited. The Report is welcome as it provides a different perspective of retirement income policy but the area need a very substantive review, by a body such as the Productivity Commission.
One last observation regarding the Report and a comment made:
"The retirement incomes system should also avoid boosting inheritances because inheritances tend to increase wealth inequality and to reduce incentives to work. This creates a quandary for retirement income policy. .... many retirees don't spend down their capital. In part this appears to be driven by a psychology of extreme prudence."
Prudence may well be a factor in retiree behaviour but so is the spectre of significant Aged care accommodation payments (RADs). Retirement income and aged care funding should ideally be addressed in tandem.
How does the Australia Retirement and Pension System Compare Globally? - October 24, 2018
In the recently released Mercer Global Pension Index, Australia continues to rank highly when compared against retirement systems in other developed countries. However, whilst Denmark and The Netherlands moved to an "A" grading this year, Australia slipped from a B+ to a B in the rankings.
Grade
Countries
Description
A

Denmark
Netherlands

A first class and robust retirement income system that delivers good benefits, is sustainable and has a high level of integrity
B+
Nil
 
B
Finland
Australia
Sweden
Norway
Singapore
Chile
New Zealand
Canada
Switzerland
Ireland
Germany
A system that has a sound structure, with many good features, but has some areas for improvement that differentiates it from an A-grade system
Australia's drop in the rankings largely seems to stem from relatively recent changes to the assets test and increasing levels of household debt. In terms of how Australian system could be improved, the Report continued to flag the following measures:
introducing a requirement that part of the retirement benefit must be taken as an income
increasing the labour force participation rate at older ages as life expectancies rise
introducing a mechanism to increase the pension age as life expectancy continues to increase
We are generally in agreement with these suggestions, and particularly with respect to limiting the ability to draw lump sums from superannuation. A better approach in this regard may be to adopt similar measures to those introduced in the UK, which only allow a 25% lump sum withdrawal on a tax-free basis.
Seniors Mortgage Debt Growing Strongly - October 21, 2018
Ideally, individuals should aim to be debt free on retirement. However, a recent speech by an Assistant Governor of the RBA clearly shows that the number of individuals with mortgages Aged 55+ has more than doubled in the period from 2001 - see the graph below. To some extent this may reflect a longer work life, but otherwise it significantly increases the risk that households will be more susceptible to financial stress on retirement, when income generally decreases.
Aged Care Access and Funding - Let's Just Start Again! - October 19, 2018
There is an anecdote, often quoted by consultants, that says if you suddenly put a frog into boiling water, it will realise it is in danger and jump out. But if you put a frog into cool water and heat the water up gradually, the frog may stay in the water until it is boiled alive.
We quote it here because we believe that the residential aged care system has, for a variety of reason,s just become too complex and confusing to continue. However, most participants in the system seem unprepared or unwilling to recognise that radical change is desirable and needed. This complexity comes at a point in time, invariably towards the end of a person's life, where they often don't have the capacity to cope with the complexity and nor will their families have the requisite experience. It is also injecting an undue amount of stress into the senior population and leading to undesirable economic behaviour for the broader economy.
We need to start again with a clean sheet, from scratch, to develop a system that is as efficient, equitable and as transparent as possible - and that includes a review of how aged care accommodation is funded. We do not believe that the current system,with its focus on accommodation payments to fund the building of aged care accommodation is either optimal or equitable.
The area is complex and multi-faceted and there is a need to integrate with tax and social security policy, but our key views are as follows:
Many seniors fear the need to enter residential aged care, principally because it brings with it the need to pay a refundable accommodation deposit (RAD), which now averages around $350,000 in the major capital cities. It is possible to pay for accommodation using the income stream equivalent, the daily accommodation payment (DAP), but it is the RAD figure that induces stress and worry. In turn, that induces many seniors to "over save" during their retirement years, even though the great majority will never enter residential aged care.
Asset and income tests determine whether individuals require the payment of a RAD, and these mean that a significant, and perhaps inequitable, share of the burden for financing the residential aged care system falls on those who have saved and invested. Indeed, individual RADs quoted by aged care facilities, include an amount to cover costs attaching to housing residents who do not pay an accommodation charge. That is poor policy, and invariably individuals will alter the circumstances to reflect the system, leading to more and more administration in an effort to play catch up.
The current approach, plus other inadequacies in the tax and pension system, lead many retirees to retain their main residence as a hedge against the need to pay a RAD at some point in time, rather than downsize or use funds otherwise.
Funding for aged care facilities is a major issue, and likely to become significantly more so with a rapidly ageing population. Why aren't other ways of funding the capital required being considered, particularly given the existence of trillion dollar superannuation funds looking for long-term revenue streams. If in some way the cost of high-quality standard age care could be removed from individual residents, retaining strict gateway requirements in places currently, with individuals only paying the net added cost of higher quality accommodation or "optional extras", then this would materially reduce and fairly spread the "finance shock" currently attaching to residential aged care.
Nothing is free, and we need to carefully consider all potential forms of funding, without exception, and indeed consider whether private operators should feature in this sector. It is completely foolish to have most or all of the aged population - except those who have no funds or income - "stressed" in case they need aged care. Figures show that currently only 7% of Australians aged over 65 will enter aged residential care and, if they do, it will be for a relatively short period. This is the sort of situation where "insurance" is usually the most effective product - and provided through the Government rather than a commercial provider. We would only generally comment at this stage that we believe funding should be biased towards the older, rather than younger, age groups.
Productivity Commission Draft Report on Superannuation - June 13, 2018
We are fans of the Productivity Commission; they normally produce well considered, practical reports mostly devoid of politics. And so it was with their latest draft report on Superannuation released in May 2018. Not all of the recommendations are relevant to retirees, but we mention some of the more interesting recommendations below in summary form;
Individuals new to superannuation should be presented with a single shortlist of up to 10 superannuation, "best in show" products from which they can choose a product. Clear and comparable information on the key features of each shortlisted product would be provided. The 10 products would be chosen by an independent expert panel through a competitive process, with the process regularly repeated every four years. The effect would be to see a reduced role for employers, was they would no have a role in selecting "default" funds.
Require that all superannuation funds publish a simple, single page product dashboard for all the superannuation products.
Legislate to ensure that all exit and switching fees charged for superannuation funds represent only cost recovery
Require that members are provided with insurance cover on only in "opt in" basis below age 25 and that trustees provide a simple calculator on their websites through which members can determine how insurance premiums will impact their balances that retirement. It was further suggested that the government should commission a formal independent review of insurance in superannuation.
The report was sceptical about the need for a Comprehensive Income for Retirement (CIPR) product, arguing that no one product will suit all member requirements. Currently, as you mention elsewhere, we regard the (unfortunately named) CIPR more as a vague objective rather than as a product offering, believing that there is no "silver bullet" where retirement income is concerned - but we are worried that the critical missing ingredient is a lack of independent, qualified and cost-effective advice.
Superannuation and the "Moral hazard" - February 25, 2018
With effect from January 1, 2018 retirees lost $3 of age pension (per fortnight) for every $1000 of assets owned over a certain threshold, compared to $1.50 per $1,000 of assets previously.
The much discussed effect of this change, and we can only presume that it was unintentional on the part of the Government, was to introduce a situation where an individual or couple who owned their own home would be better off, in terms of total retirement income, with $400,000 in super funds funds rather than $800,000 in funds.
The effect was to effectively introduce a disincentive to save, and a ludicrous situation where some individuals chose to spend their superannuation funds on holidays or home improvements in order to access additional Age pension payments. These expenditures have been referred to by some commentators as having an "earnings rate" because they generate additional pension payments.
These changed introduce what we refer to as 'moral hazard' - a "situation in which one party gets involved in a risky event knowing that it is protected against the risk and the other party will incur the cost.' The risky behaviour in this case is spending retirement funds in a questionable manner, and the "other party" protecting their behaviour is the Government, with taxpayers footing the bill.
The government is effectively sending a signal that it is only willing to support a certain (modest) level of retirement savings, reinforced by recent restrictions on both concessional and non-concessional contributions. That is a dangerous signal unless it is clear that the superannuation guarantee at current (and planned future levels) will do much of the heavy lifting in terms of future retirement incomes and supplant the Age pension.
We very much support the concept of the Age pension being a "safety net", not an entitlement, but you cannot have structures in place which effectively discriminate against savers in favour of those who benefit from the safety net; regardless of whether they did not have the opportunity to save or because they chose to spend and "enjoy the moment".
To provide an example, we cannot afford - either societally or economically - to support, formally or tacitly, the following sort of financial plan seen in a local newspaper and paraphrased below:
"My wife and I are both 60 years of age and own our house outright. We have $500,000 in super and intend to retire, spend it all by the time we reach 66 and then go on the Age Pension"
If a better balance isn't struck - and we don't necessarily see that grandfathering is the answer; it provides "protected pockets" and increases complexity - then we can see constraints being placed on super lump sums and I doubt that will be in many people's best interest.